As you may or may not know – I have acquired a new to me 2009 E92 M3 – Codename: Ruby – I will attempt to document the build and maintenance of this car along with my thought process behind the decisions I'm making. I think it goes without saying but there has been something that has always intrigued me about the e9x m3s, their road presence is aggressive yet understatedm, it was an icon of its time, and has one of the best-sounding v8's ever produced.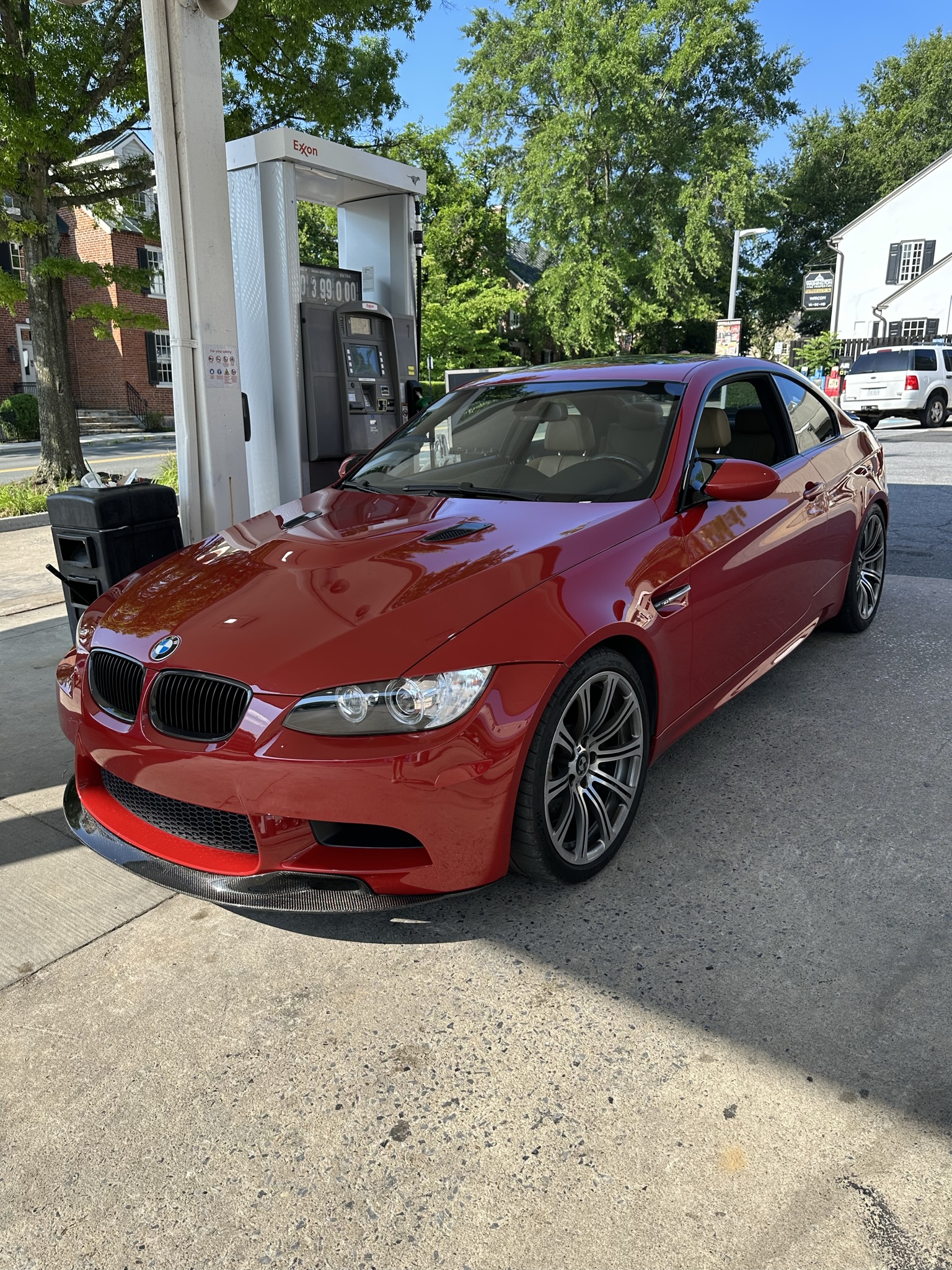 Acquisition
First things first let's talk about the details of the car, the good, the bad and the ugly. I found this car on Facebook marketplace and instantly fell in love with the red-on-tan combo and the thought of having a manual e92 m3. So like any good Facebook'er I sent the guy a message and asked some basic questions which likely already had answers in the Post (is this available????). After about 2 weeks of casual chatting, we made a deal that I was happy with and set a time to pick up the car. The car had some pros and cons for me but overall I was willing to take the chance on this car in a spec I really desired from a buyer that I had trust in. The plan for this car is to be an OEM+ daily driver with tasteful visual and performance mods. Some pickup details are below.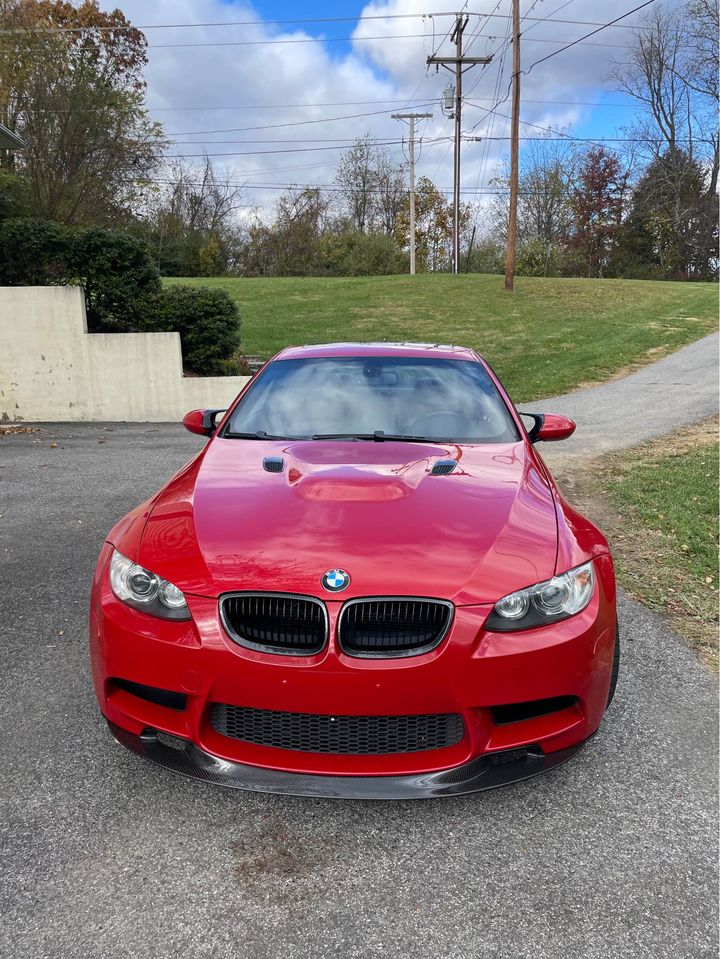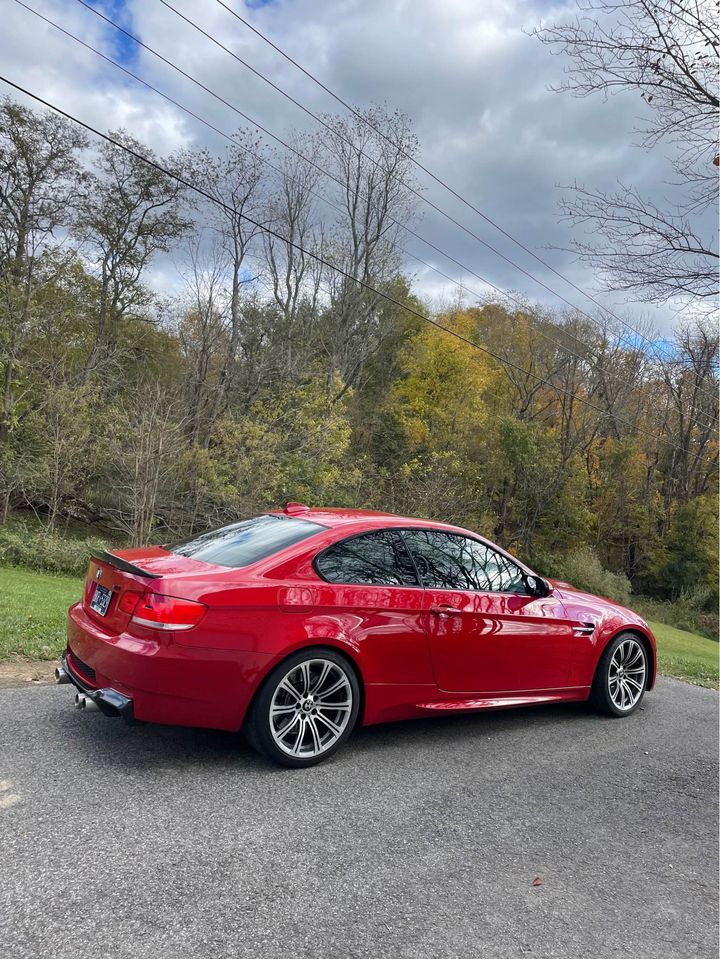 The Good

low(ish) miles ~ 75,000 – If you have shopped for one of these cars before you know that just about everyone is 100k+ or low mileage with a price around ~50k
Red on Tan Extended Leather – This combo is my absolutely favorite and have already had some offers from others to purchase my interior, (not gonna happen)
6MT – I mean the only option
Active works Exhaust – Decent exhaust note… not too awful loud
Some decent carbon bits (lip and rear diffuser)
Carbon Intake
Carbon fiber kidney grille/hood bonnets & side markers
New rear tires
Sunroof – I know this isn't desired by many, but being I have a slick-top M2 this is something I wanted.

The Bad

Rod Bearings not done – However, I was provided with oil test results
Throttle actuators not done
Hard water spots on the paint under the inspection light – its all good I wanted to learn paint correction anyway
Standard e9x interior decay – HELP!
Double Hump – not that I hate it, just single hump is more desired

The Ugly

No AC!!!! The day before my flight to VA, the previous owner called and said the compressor will no longer kick on. Corin and I decided to send it and make the drive from VA back to Syracuse – plane tickets were already purchased. We ended up driving the car back on the hottest day on record in the history of the planet. We had to stop about every hour to re-up on ice-cold waters to put behind our necks.
Once we got it back to the 315 it was time to get to work on the vision. Here she is back home and getting a quick wash after the 370 Mile trip.
Fresh Start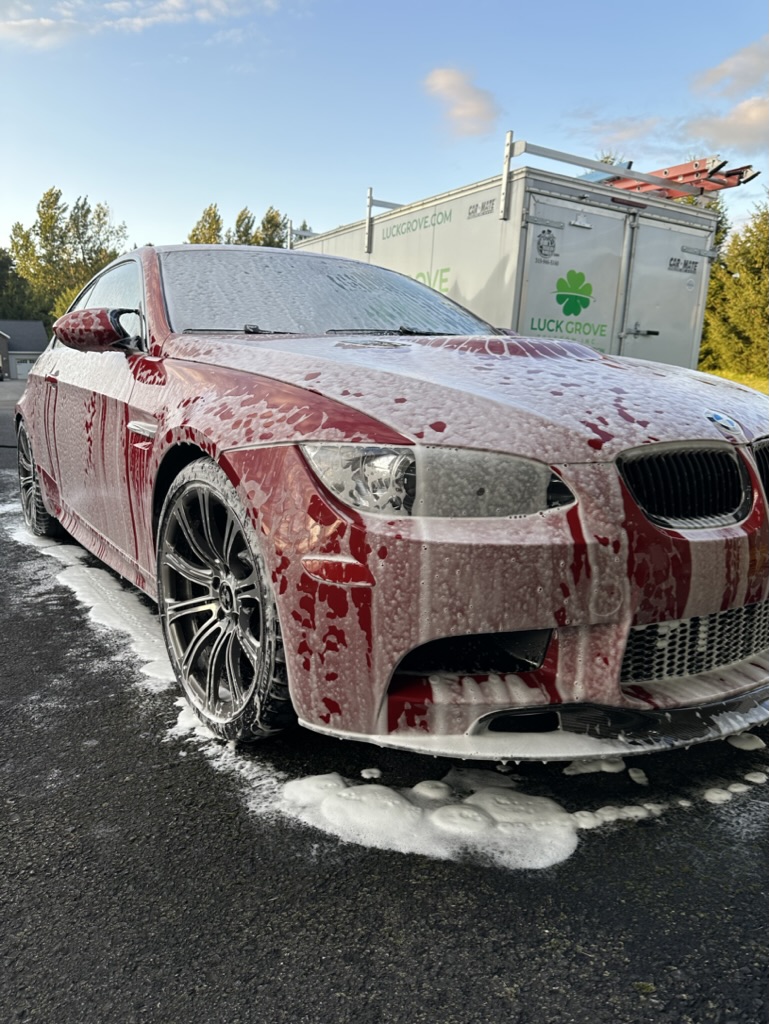 So I like to give any car I buy a fresh start before we really start driving it and judging it. I typically end up saying wow this car is perfect let's not do anything we had planned. I'm trying to be better – you all can help me.
AC
The first thing that had to be done before even considering driving this car was getting the AC up and running, being that I was on a short time schedule (nationals weekend), we sent the car over to our friends at upstate imports to get sorted and give it a good once over. They got us out in about 3 days with a clean bill of health and freezing-cold AC.
M Performance Spoiler – Aerobon
The High-kick H carbon spoiler from RVG Performance had to go… I'm really just not a fan of the High-Kick spoilers or even standard h spoilers at this point, they are a little played out and are typical on every street car these days. I went ahead and ordered a P-Style M performance carbon from Aerobon. I assume this is FRP considering the price but cannot find literature to support that, however, the weight is pretty impressive and the build quality is comparable to the RVG spoiler. There was some polishing and clean up that needed to be done before the installation of the new spoiler(see photos). So far I am happy with the aesthetics of this spoiler.
Upcoming
In the short term, I've put orders in for the following and will be posting a write up and my thoughts on them as we install.
M Performance Side Skirts from Custom Tuning. (eBay Special)
12.3 Inch CarPlay CIC replacement – I battled with this internally. Converting to single-hump or doing a 12.3 CarPlay screen. I talk on the phone ALOT when I drive, I mean ALOT ALOT… I also use navigation all the time so I'm going to try 12.3 inch CarPlay from Eurostyle tuning for a while… but MAYBE a single hump dash conversion is in my future. For now ill review the 12.3.
ZHP Shifter and Shift boot – Apparently not as easy to source as you'd think. I've sourced the OEM shift knob from ECS but had to get a shift boot ring from Ebay and the shift boot from a random shop (will link if I approve)
Full car paint correct – Probably not the greatest car to learn on, but we're gonna send it. (will be using the Torqx polisher kit from The Chemical Guys)
Longer Term
F87 Steering Wheel Conversion – I have a left over F87 steering wheel from putting a new wheel in the m2. I think the f8x style wheel compliments the e9x interior nicely and will be doing some more research on how to accomplish this.
LCI Tails – Looking to source some reliable plug-and-play ones
Headlights – Not sure what I want to do here. Potentially looking to go f8x style with carbon inlays. I don't love the g8x style headlights on the e9x cars.
Wheels – I am trying my damnedest not to by 359m's but they just look so good on the e92. Send me some other wheel choices if you see any you like.
Conclusion
I've been driving this car every chance I get and I have to say it is just about as buttery as they come. The road, steering, and engine feedback are all super impressive. Wide open throttle releases a tone that puts a smile on your face. It's certainly not as angry at me as the M2 or even nearly as quick, but there is something about driving it that makes it the preferred choice – at least for now. Have you had any similar experiences buying cars? What is the first thing you look for? What instills confidence in a seller? What project car are you working on now?
More to come.