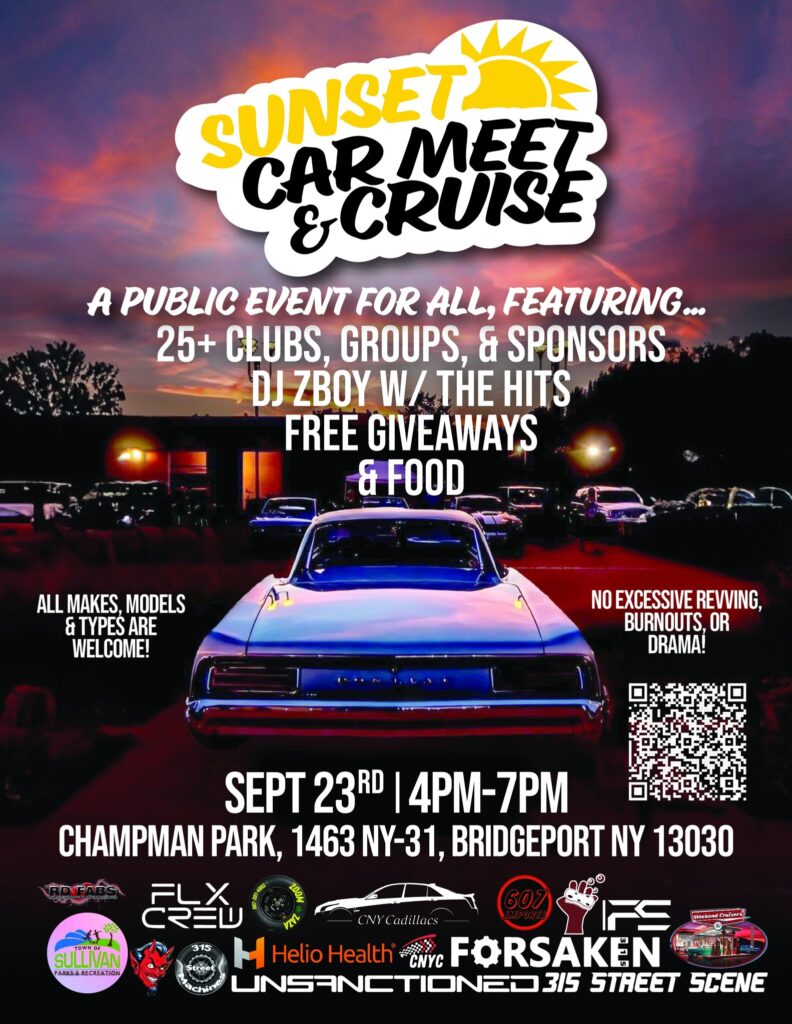 * Date: September 23rd
*Time: 4:00pm-7:00pm
*Location: Beautiful Champman Park over looking Oneida Lake
*1463 NY-31, Bridgeport NY 13030
*Special guest DJ Zboy spinning all of our favorite music hits.
*Free giveaways
*Food
*Car Cruise
*And more
*All vehicles makes, models and types are welcome!
*This is a FREE public event all are welcome.
*This event highlights all vehicle enthusiasts and there owners and people that love and enjoy them and for the public to have a glimpse into our world and community as we love it.
This is a completely CASHLESS property and event!
We will only be accepting Cashapp & Venmo the day of the event.
*Over 25 combined car clubs, groups and sponsors attending this event!
DETAILS: Meet at Chapman Park from 4:00-7:00! Then we are all cruising to Sweetheart corners, ending the cruise at Utica Pizza Company located at
(628 S Main St,North Syracuse,NY 13212)
Food: Utica Pizza Company
Event Donations: Every $17 donated you will receive a event T-shirt.
Cashapp: $CNYCadillacs
Venmo: @CNYCADILLACS
*Helio Health, Takes a comprehensive approach to recovery. An approach that strips away the chains of addiction and mental illness so that, together, you and your family can begin a new life of hope and healing. At Helio Health we promote recovery from the effects of substance use and mental health disorders and other health issues.
*For more information join us on our Facebook group page at CNY Cadillacs